I am in Montreal this week for work. I have asked repeatedly that they send me to here during the summer, but for some reason, I only get to visit when it's 0 degrees F. OK, fine-- maybe it's 10F.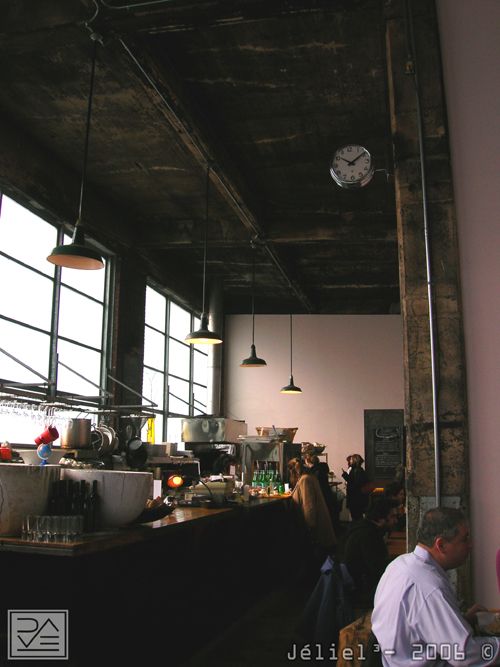 Marco took me to a neat little restaurant in Old Montreal called
Cluny
. They fancy themselves an art bar, and that's a pretty accurate description. You can get food here, but it's is also an art exhibition space. On top of that, everything in there is pretty artsy. There's a huge oil painting on the wall, interesting tables and vases that were crafted from things like bowling alley floors, car metal, you name it.
For lunch, I had a delicious Caprese sandwich. It was huge! Montreal certainly doesn't toy around with small serving sizes, which I like.
Before coming to Montreal, I researched various restaurants in the area so I would know some good places to eat. I was elated to discover that I would be here during
Happening Gourmand
, which is a week in which eight Old Montreal restaurants offer a 3-course meal for $15-25. It's no slouch either. Unlike similar events I've gone to in Atlanta, the three courses full-sized, so you leave the restaurant happily full, having eaten a 40% off meal.
I chose to eat at a place called
Restaurant de Vieux-Port
. It was great! I chose escargo for my appetizer (
entree
up here), beef tenderloin medallions wrapped in bacon with chasseur sauce for my main course, and a chocolate mousse cake for dessert.
The escargot wasn't what I was expecting. I thought they'd be a bit slimy and slippery. They were actually a bit chewy. Not in a bad way -- kind of like a mushroom. Good, but not exciting enough to reorder. The tenderloin was also yummy; as one might expect, it was tender. The veggies that came with it were also good.
The shining star was the chocolate mousse cake, which was so good, I teared up a bit. I couldn't eat all of it, and for that, I was really sad because it was so unbelievably good!
Dinner was also very nice because I started chatting with another girl in the restaurant, also traveling on business, who was quite amicable and fun. Traveling alone is inevitable, but when you have to eat alone, it gets lonely, so chatting with her made it a bit more bearable. She leaves tomorrow, and I'm sure that I will never see or talk to her ever again, but it was nice to have someone to share one of my nights in a foreign city.
I feel like I shouldn't end my post without talking a second about breakfast. A full breakfast is included where I'm staying,
Hotel St. Paul
. Not a big surprise, because it's not a cheap hotel. Very swanky, I've been told more than once that it's a popular place to stay for musicians and celebrities visiting the city. Ooh la la.
The breakfast is no slouch. There's a buffet of various fruit (pineapple, watermelon, cantaloupe, honeydew, strawberries), hard boiled eggs, 8 different types of bread, cereal, oatmeal, and 6 different types of cheese. It's a really well-done healthy breakfast.